Mission Minis Recipes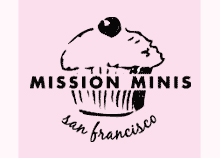 Here's a giveaway for Bay Area readers. Mission Minis, located in San Francisco is giving away a $25 gift certificate to one lucky reader. Despite their diminutive size, with flavors like Cinnamon Horchata, Aztec Chocolate & Meyer Lemon Creme, these are definitely grown up treats!

Just visit our 25 Days of Giveaways page to enter the contest. Good luck!
If you can't wait to get your hands on these delicious little cakes, head over to 3168 22nd Street, San Francisco, CA 94110.
Make sure you're a fan of PhamFatale Facebook fan page and Mission Minis, or follow @Phamfatalecom and tweet about this giveaway. To make it easy, you can just copy and paste this tweet if you'd like: "Mission Minis $25 gift certificate #Giveaway from @Phamfatalecom and @missionminis: http://bit.ly/sp4V7y". Good luck everyone!
Full Recipe...