Bakeries Recipes
After seeing family and friends (of course), the part of a trip to Paris that I most look forward to is visiting the myriad bakeries and pastry shops (boulangeries & patisseries) that the city has to offer. However, over the past decade I've noticed a trend of "industrialization" and franchising of bakeries that has dramatically reduced the quality. To be sure, there are still shops that make products unrivaled by anything you could hope to find in the States. Unfortunately, there are also enough imitators around now that you can just as easily spend your hard-earned money on a pastry or croissant that is far worse than the ones sold at your local Costco. So how does one separate the wheat from the chaff? It's actually not too difficult if you're a bit observant. Here are some tips to help you on your quest:
Full Recipe...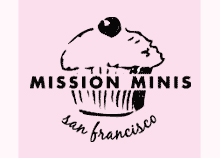 Here's a giveaway for Bay Area readers. Mission Minis, located in San Francisco is giving away a $25 gift certificate to one lucky reader. Despite their diminutive size, with flavors like Cinnamon Horchata, Aztec Chocolate & Meyer Lemon Creme, these are definitely grown up treats!

Just visit our 25 Days of Giveaways page to enter the contest. Good luck!
If you can't wait to get your hands on these delicious little cakes, head over to 3168 22nd Street, San Francisco, CA 94110.
Make sure you're a fan of PhamFatale Facebook fan page and Mission Minis, or follow @Phamfatalecom and tweet about this giveaway. To make it easy, you can just copy and paste this tweet if you'd like: "Mission Minis $25 gift certificate #Giveaway from @Phamfatalecom and @missionminis: http://bit.ly/sp4V7y". Good luck everyone!
Full Recipe...